Germany

"Middle Black Forest"

Section of the topographical map
Landesvermessungsamt B-W. - http://www.lv-bw.de
BLACK FOREST - Easy to reach !
Directions for Seelbach
and your holiday apartment
By car:
Take autobahn 5 Karlsruhe - Basel. Get off the autobahn at the sign for Lahr, km 714, exit 56. Turn left toward direction Lahr / Kinzigtal / Biberach.
This will be Route B 36 at first/later Route B 415. Pass through the city of Lahr and its suburbs Lahr-Kuhbach and Lahr-Reichenbach. Immediately after you leave Reichenbach, watch for the sign for Seelbach/Schuttertal to the right.
Than after 1 km you reach a circle (in front of the village Seelbach) drive straight ahead over the circle, continue for about 1 km (0.62 miles) until you see the pedestrian light. Twenty meters (22 yards) before the light (which is about 150 m (164 yards) before the church), take a sharp turn to the left (you will have the impression that you turn back in the old direction).
Follow strictly the right curbstone (the road has two slight curves) for about 300 m (328 yards) until you reach Sonnhalde.
Follow Sonnhalde uphill. After 150 m (164 yards), you will come to your destination Sonnhalde 11, which is on your right.
By train:
If you travel by train, we should be happy to fetch you either from the train station in Offenburg, where the ICE train stops, or from the train station in Lahr/Schwarzwald, where the interRegio train "Höllental" stops.
By air:
If you decide to travel by air, there is the new airport Lahr - Black Forest Airport (EDTL), about 12 km from Seelbach;
Lahr Info: 125,175 MHz, Elev. 508 ft, runway 03/21 - 3000 m x 45 m, Tel. OPS 0 78 21 / 994-200, Tower 0 78 21 / 95 55 76.


Please inform us in advance as to your travel time. We should be happy to fetch you from either the train station or the airport in Lahr.

In case of need, we should be happy to help you with the rental of a car.
Patients of the Heart Clinic Lahr
and
Students of the Berufsakademie Lahr - AKAD

You can reach our holiday apartments very easily by car. It takes only 6-8 minutes for the distance of 5 km. The Heart Clinic and the AKAD are on the eastern outskirts of Lahr which means that you don´t have to cross the city center to go to Seelbach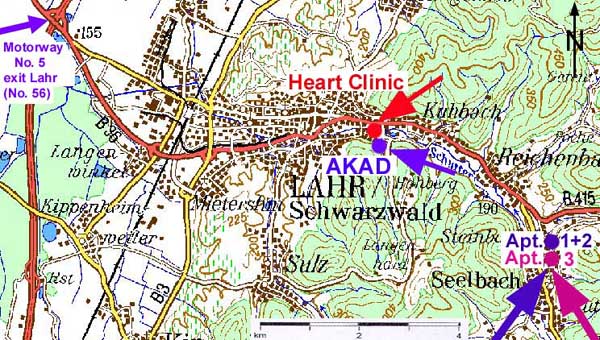 Direction Seelbach coming from the AKAD and the Heart Clinic
Section of the topographical map
Landesvermessungsamt Baden-Württemberg - http://www.lv-bw.de



City map of health resort Seelbach